Inbound Call Management
Automatic Call Distribution (ACD) & IVR
Powerconnex's Inbound Call Management is a feature rich inbound queuing and Automatic Call Distribution (ACD) platform with Interactive Voice Response (IVR) capability.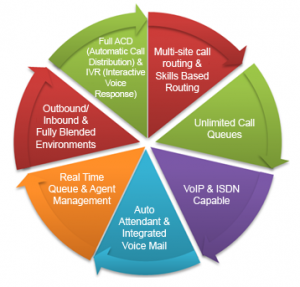 Queue Management Summary
The Real-Time Queue summary includes; Available Agents, Calls Waiting, Abandonment Rates, Average Wait Times and Service Level Performance, all available at a glance.
Agent Management
The Real-Time Agent summary includes Available Agents, Agent Status, and extensions. Notably, agent performance can be measured simultaneously across several sites.
Queue Management Detail
Queue details including each Call and 'Length of Time' in the queue is available in real-time.
Agent Management Detail
Individual agent login, break, call start, finish and wrap-ups are recorded.
Skills Based Routing
Calls are routed automatically to available agents with the most appropriate skill and/or skill level. Notably, agents can have multiple skills (and a skill level) and campaigns/queues can have multiple skills.
Interactive Voice Recognition (IVR)
Our Contact Centre Systems come with a generic IVR script that can be easily customised to facilitate effective call routing. An auto-attendant is also a feature of the IVR function.